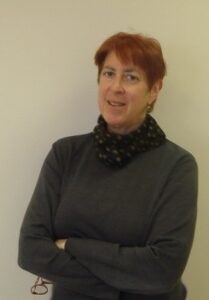 Poet-critic Rachel Blau DuPlessis (Ph.D., Columbia University) is known as a feminist critic and scholar with a special interest in modern and contemporary poetry, and as a poet and essayist. Blue Studios: Poetry and Its Cultural Work, a book of essays, was published by University of Alabama Press in 2006; in the same year, Alabama reprinted DuPlessis's classic work The Pink Guitar: Writing as Feminist Practice. Another recent critical book by DuPlessis is Genders, Races, and Religious Cultures in Modern American Poetry, 1908-1934 (Cambridge University Press, 2001). Her books of poetry are Drafts 1-38, Toll (Wesleyan University Press, 2001) and DRAFTS. Drafts 39-57, Pledge with Draft, Unnumbered: Précis (Salt Publishing, 2004). A poem from this book appears in Best American Poetry 2004. Torques: Drafts 58-76 appeared from Salt Publishing in October 2007 and Pitch: Drafts 77-95 is in press with Salt Publishing.
DuPlessis received Temple University's Creative Achievement Award in 1999. In 2002, she was awarded the third Roy Harvey Pearce / Archive for New Poetry Prize, given biennially to an American poet/scholar who has made a significant lifetime contribution to American poetry and literary scholarship. In 2002 she was also awarded a Pew Fellowship in the Arts; in 2007 a residency for poetry at Bellagio, sponsored by the Rockefeller Foundation; and in 2008-09 an appointment to the National Humanities Center in North Carolina. An interview of DuPlessis conducted by Jeanne Heuving appears in Contemporary Literature (2004).
DuPlessis, Professor of English at Temple University, is the author of Writing Beyond the Ending: Narrative Strategies of Twentieth-Century Women Writers (1985), H.D.: The Career of that Struggle (1986), both from Indiana University Press, and The Pink Guitar: Writing as Feminist Practice (Routledge, 1990, now reprinted). She is the editor of The Selected Letters of George Oppen (Duke University Press, 1990), and the co-editor with Peter Quartermain of The Objectivist Nexus: Essays in Cultural Poetics (Alabama, 1999).  The Feminist Memoir Project: Voices from Women's Liberation, co-edited with Ann Snitow, and published in 1998, has been reprinted by Rutgers University Press (2007).  She is also the co-editor with Susan Stanford Friedman, of Signets: Reading H.D. (University of Wisconsin Press, 1990).
Poetry by DuPlessis is anthologized in Innovative Women Poets: An Anthology of Contemporary Poetry and Interviews, (University of Iowa Press, 2006), in  Moving Borders: Three Decades of Innovative Writing by Women (Talisman House, 1998) and in Onward: Contemporary Poetry and Poetics (Peter Lang, 1996). Her books of poetry include Wells (Montemora, 1980, now online at durationpress.com), Tabula Rosa (Potes & Poets, 1987), Draft X: Letters (Singing Horse Press, 1991), Drafts 3-14 (Potes & Poets, 1991), Drafts 15-XXX, The Fold (Potes & Poets, 1997) and Renga: Draft 32 (BeautifulSwimmer, 1998). Some of this work has been translated into French as Essais: Quatre Poèmes (Un Bureau Sur L'Atlantique, 1996). Her poetry and essays have also appeared in Italian, Serbian, Greek, Portuguese, and Spanish. In 1990, she held a  Pennsylvania Council on the Arts grant for poetry, and in 1993, she received an award from the Fund for Poetry.
Her scholarly articles appear in periodicals such as The Kenyon Review, Diacritics, Contemporary Literature, MLQ and American Literature and in anthologies from the university presses of Virginia, Michigan, Cambridge, Illinois, Iowa,  North Carolina, Wisconsin, and Princeton. Her work has been anthologized in Poems for the Millennium, vol. 2 (University of California Press); Artifice and Indeterminacy: New Essays in Poetics (Alabama); H.D. and Poets After (Iowa); Dwelling in Possibility: Women Poets and Critics on Poetry (Cornell); The New Feminist Criticism (Pantheon); Why the Novel Matters (Indiana); Essentials of the Theory of Fiction (Duke);  Narrative/Theory (Longman);  Conversant Essays: Contemporary Poets on Poetry (Wayne State); Virginia Woolf: A Collection of Critical Essays (Prentice-Hall); and Narrative Dynamics: Essays on Time, Plot, Closure, and Frames (Ohio State).
DuPlessis is affiliated editorially with jml (Journal of Modern Literature), Contemporary Women's Writing,  Feminist Studies, Modernism/Modernity, and with series on contemporary poetry and poetics from the University of Alabama and the University of Iowa presses. She has also served on the boards of Sulfur, Sagetrieb, and HOW(ever). She is the editor for Palgrave Macmillan's new series in "Modern and Contemporary Poetry and Poetics."
updated 04/2009